It's ranking update season, and it's about time! I appreciate everyone's patience between the inaugural 2025 rankings introduction and yesterday's official update. I wish my process was more fluid, and one day it will be, but I do like seeing…
It's ranking update season, and it's about time! I appreciate everyone's patience between the inaugural 2025 rankings introduction and yesterday's official update. I wish my process was more fluid, and one day it will be, but I do like seeing some time pass between updates to see how I hit and miss on certain prospects, and with the underclassman, it's nice to give them some time to develop, grow, and hit the camp circuit. The 2025 class in the Great State of Minnesota is already shaping up to be a good one, with one prospect already holding FBS offers and a ton of intriguing talent at the offensive skill positions as well as in the trenches. Among the now 196 strong rising sophomores to make the rankings and watchlist, PrepRedzoneMN wanted to highlight some particular young bucks that are newcomers to the rankings, as well the kids that made the inaugural rankings and have seen their stock rise since we introduced their class in November. Get to know the Top Newcomers and Stock Risers below, and thanks so much for reading. Hope you enjoy!
Stock Risers 
Riley Grossman
Riley Grossman 6'1" | 185 lbs | QB Lakeville North | 2025 State MN  (Lakeville North) QB. 6'1, 170 lbs. Saw his ranking rise from #17 to #2
In hindsight, Grossman should have been a lot higher when we introduced the 2025s last fall, but if I remember correctly I just missed his Hudl highlights being published and was working off word of mouth alone. However, the fact that Grossman is the first Panther freshman to start at QB since '88 graduate Jay Johnson started the last few games of the 1984 season as a ninth-grader should have earned him a better spot in itself. No matter, as he takes his rightful spot in the Top-2 after a great freshman season and a Golden Gophers camp performance that earned him some recognition. Along with Monticello's 2025er Luke Emmerich
Luke Emmerich 6'2" | 190 lbs | ATH Monticello | 2025 State MN , the two rising sophomore QBs are showing P5 potential in their near future, and on tape, the Lakeville product Grossman sports a lean, athletic build and some obvious arm talent along with a pretty throwing motion for just a freshman. He's got the arm strength to hit receivers in stride downfield and over trailing DBs, and he's got some reps rolling to his left or right where the ball snaps out of his hand with zip and accuracy, He's mobile, accurate, mechanically sound, and tough, and the future is very bright for the young gunslinger.
Khalif Brown
Khalif Brown 6'2" | 190 lbs | WR Benilde-St. Margaret's | 2025 State MN  (Benilde-St. Margaret's) WR. 6'1, 180 lbs. Rose his stock from #7 to #5
The #1 wide receiver for the class of 2025 improved his stock and rose into the Top-5 upon this newest update, and there is a ton to be excited about in the young wideout who contributed a ton to BSM's varsity offense last fall. The Great State of Minnesota has produced NFL-caliber WRs for a while now, and given what I'm seeing on film for only a 14-year-old last fall I think Brown is next-in-line for WR1 and P5 offers out of Minnesota. Already holding great size at 6'1, 180, Brown looks and plays like an already seasoned varsity WR (besides rocking #42 last year), and is downright dangerous in the open field with the ball in his hand. He can drop his hips and cut very effectively and shows body control when tracking the ball and toughness when securing a catch through contact. He's got solid speed, and if he can keep improving in that department he is going to be on the cusp of dominance before he knows it. His effectiveness in space is already very impressive for his age.
Cole Wangen
Cole Wangen 5'11" | 205 lbs | RB Blooming Prairie | 2025 State MN  (Blooming Prairie) RB. 6', 180 lbs. Rose from the Watchlist up to #21
The Awesome Blossoms are my favorite mascot in the state, so when there's a prospect out of the Southern MN program emerges I'll take as many opportunities as I can get to write about him. BP has a couple of 2025s to be excited about, with the most prominent at this point being 6', 180-pound RB Cole Wangen
Cole Wangen 5'11" | 205 lbs | RB Blooming Prairie | 2025 State MN . With good size for his age, he got a lot of varsity action in 2021 and used his reps well, showing off vision and slipperiness when breaking tackles. He follows his blocks and shows a little bit of giddy-up when he hits the hole, and surprises pursuers with his speed once he gets going. Wangen is already a confident and playmaking RB who has a chance to match or better the recruiting prowess of 2022 Awesome Blossom stud Drew Kittelson – an MSU-Mankato signee. Keep it up, Cole!
Newcomers
Emmanuel Karmo Emmanuel Karmo 6'3" | 205 lbs | LB Robbinsdale Cooper | 2025 State MN  (Robbinsdale Cooper) LB. 6'3, 205 lbs. Ranked #1
The lone 2025er of the group to already hold D1 offers, Karmo has been offered by East Carolina and Southern Illinois on his June camp circuit and is far from done in terms of college football suitors. I'm not sure how I missed the 6'3, 205 lber. the first time rankings came around, as I got his teammate and fellow 2025 varsity LB Tony Kollie Tony Kollie 6'0" | 195 lbs | LB Robbinsdale Cooper | 2025 State MN , but either way he's the surefire #1 prospect in the class of 2025 and has the chance to possibly be as good as his Cooper Hawks preceding recruiting superstar Jaxon Howard Jaxon Howard 6'4" | 245 lbs | DL Cooper | 2023 State MN . With tantalizing length and overall size for his age and position, Karmo displays some promising range from his MLB spot that looks like he can go sideline-to-sideline in pursuit of the ball, start and stop ability, and some awesome twitch when he's blitzing the QB off the edge. It also looks like he can flip his hips in coverage, and I have a feeling he'll be called upon a lot more for Cooper's defense this fall.
Tucker Olson Tucker Olson 6'2" | 285 lbs | OL Anoka | 2025 State MN  (Anoka) OL. 6'2, 280 lbs. Ranked #8
The Anoka Tornadoes have gone from one of the most struggling Metro programs to a lowkey P5 hotbed in less than a decade and have themselves a young mauler on their OL to go along with P5-recruit Grant Chapman Grant Chapman 6'5" | 280 lbs | OL Anoka | 2023 State MN . 2025 OG Olson started and got plenty of reps playing against varsity defensive line competition and more than held his own. He holds a stocky, thick frame that is only going to get bigger, and for an already 280 lber. he can get out of his stance well and block/operate/move at the second level and in space overall. He's also quick enough to swipe back and pull across multiple gaps as a guard, and has some pass pro experience playing with Anoka. If he can get stronger and work on his finishing ability, as well as play with just a tad lower pad level, I think he's got the chance to be one of the better offensive lineman in the entire 2025 class. Keep working, Tucker!
Josh Wedel
Josh Wedel 6'5" | 235 lbs | LB Chaska | 2025 State MN  (Chaska) TE/DE. 6'4, 220 lbs. Ranked #9
The Chaska Hawk XL 2025er brings up the rear of the Top-10 despite not having any film in pads due to his athleticism at 6'4, 220+. This isn't a shameless plug for our PrepRedzone Showcases, but it is a testament to why attending one of our showcases as an underclassman can prove fruitful. The soon-to-be #2 player in the '24 rankings – Wyatt Gilmore
Wyatt Gilmore 6'4" | 250 lbs | DL Rogers | 2024 State MN – showed up at our camp as a freshman and blew off the roof with his testing numbers, giving me a sneak peek and early evaluation of the future P5 prospect that allowed me to get a head start on writing about him and bring some exposure to the young Minnesotan. Well, Wedel did the exact same thing, and came into our recent winter MN showcase and tested out of this world at a verified 6'4, 218 pounds at that point in time. He clocked a 5.03 40, 4.89 shuttle, and 9'5 broad, and given the success Gilmore found playing varsity after showing off his athleticism as a freshman, I think the Chaska product Wedel is a worthwhile bet to produce similar recruiting hype. Big-time name to keep an eye on!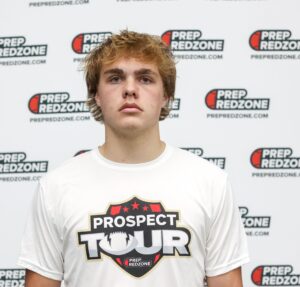 Wedel
Myles Greenwood
Myles Greenwood 6'1" | 190 lbs | QB Prior Lake | 2025 MN (Prior Lake) QB. 6', 170 lbs. Ranked #11
It's always a good sign when the hometown Golden Gophers host you for an unofficial visit as just a freshman, and that's what originally put me onto the future Prior Lake star at the QB position. The Lakers are overflowing with D1 talent and have a ton of upcoming studs in their '24 and '25 ranks, one of the most promising being the electric  Myles Greenwood
Myles Greenwood 6'1" | 190 lbs | QB Prior Lake | 2025 MN . As a non-varsity QB and athlete last fall, Greenwood proved himself to be a playmaker with a big arm and a ton of juice with the ball in his hand. He's simply faster and more athletic than his 9A competition last fall, and was willing and able to stretch the field vertically as well as buy time and extend plays with his legs outside of the pocket. I'm not positive if he'll stay at QB forever, but he was effective on deep balls as well as shorter dink-and-dunk type routes to keep his offense moving. We'll see how he's upped his game once this fall rolls around.
Jonah Ask Jonah Ask 5'11" | 165 lbs | QB Farmington | 2025 MN  (Farmington) QB. 5'11, 155 lbs. Ranked #13
Keep local news alive! Without it, the buzz about Farmington's freshman sensation Ask would be much more under wraps, as the hometownsource give an inside look at the Tiger's 2022 roster in late November of last year. It seems the coaching staff is high on Ask – whose older brother was a stud three-sport 2021 athlete for Farmington and held a UMary football offer for his gridiron exploits. The younger brother Jonah has the makings to be even better than his brother, and in his freshman tape the young signal-caller – who got varsity reps last year – opens his tape with a heckuva first throw where he rolls right against Minnetonka, keeps his eyes downfield while on the move, then sets his feet and delivers a fricken rocket into a small window between closing DBs to a WR open in the end zone. He also runs the read-option very effectively and can hurt defenses when he keeps the ball and takes off and runs. The ball also snaps out of his hand with noticeable velocity, and he's overall got a ton of arm talent and athleticism. I cannot wait to see how he performs as the Tigers varsity QB1 as a sophomore.
Michael Wagner
Michael Wagner 6'6" | 250 lbs | OL Maple Grove | 2025 State MN  (Maple Grove) DE/OT. 6'6, 215 lbs. Ranked #15
You can't teach size, and rising sophomore Wagner already possesses an eye-popping frame at 6'6, 215 with some impressive mobility to boot. He also is at one of the strongest 6A programs in the Maple Grove Crimson, and in his freshman JV/freshman tape at only 190 pounds I really liked his reps as a DE, where he can get out of his stance and close distance in the backfield very quickly. His long legs help float him into the backfield before the handoff can even be completed at times, and as a LT he's effective at working to the second level, breaking down, and blocking smaller, faster LBs and DBs. Now that he's up to 215ish I think he's going to be a lot better at finishing his blocks and tackles with authority, and if he can keep his movement skills he's going to have FBS programs contacting him sooner rather than later.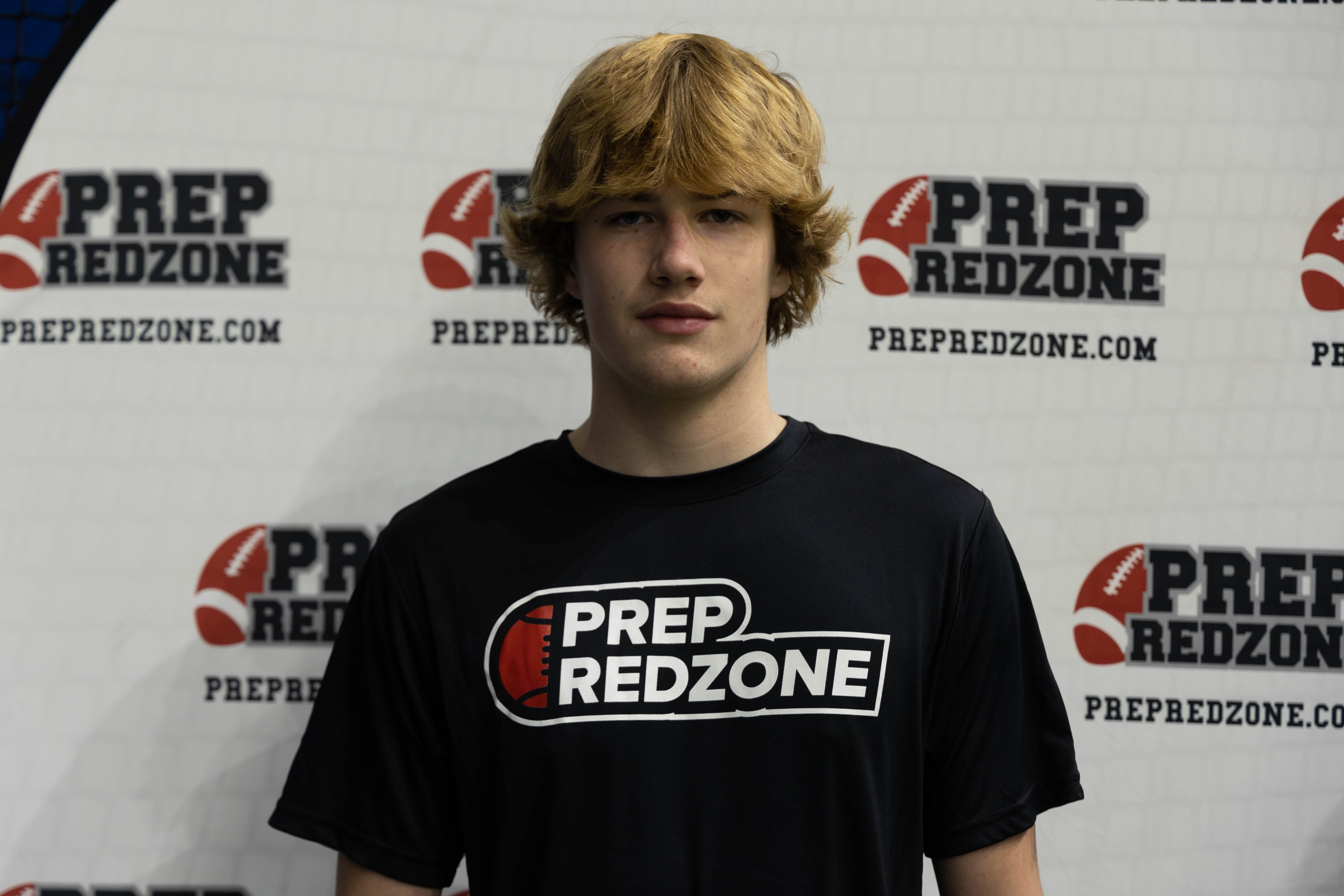 Wagner
Gaven Dean
Gaven Dean 5'11" | 155 lbs | QB Lakeville South | 2025 State MN  (Lakeville South) QB/DB. 5'10, 155 lbs. Ranked #18
Does the last name sound familiar? It should, as Lakeville South 2025 athlete is the younger brother of recent '22 graduate and MSU-Mankato signee Camden Dean, who had one of the best arms in the Metro and helped lead the Cougars to what should have been two MN 6A state championships. Younger bro Gaven tore things up on South's non-varsity teams last fall as a QB and DB, and like his brother Gaven has a talented arm and elusiveness in the pocket. However, I am a big fan of the younger Dean's tape as a DB, where his instincts and playmaking ability really shine as a safety. He made the most of his varsity opportunities last fall and completed some nice throws on the run, and I'm quite interested to see what position he gets more time at this coming fall. As always, there's a ton of talent in Lakeville.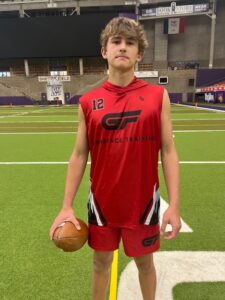 Dean
Justin "JJ" Schrot (Faribault) WR. 6'1, 155 lbs. Ranked #19
Another young brother, JJ Schrot is the younger brother of 6'3, 210 lb. 2023 Faribault Falcon Beau, and unlike his older brother, JJ does his best work as a WR on the offensive side of the ball. With decent size going into his sophomore season, Schrot made a ton of plays as both a WR and DB and is especially dangerous with the ball in his hand. He was a beast against non-varsity competition, and can and did break tackles in any number of ways. The 6'1, 155 lber. can cut on a dime and has the play strength to run through weaker tackle attempts, and as a WR he shows the speed to pull away from pursuers and get under the football when it's in the air. I think he was too physically dominant last fall to not get significant varsity reps in 2022. Additionally, if he grows to the size of his brother and keeps that playmaking ability he is going to be a very popular recruit in MN's 2025 class.
Owen Riss (Edina) RB/LB. 5'10, 180 lbs. Ranked #20
The Edina Hornet RB popped off more than his fair share of big runs last fall against JV competition and did so in impressive fashion. At 180 pounds, he's got a strong lower body and some shifty hips that make opposing defenders struggle to get a clean shot on him. His vision and speed also served him well, especially when he gets the corner, and he's overall calm, collected, and confident as a ball carrier. His strong lower body, tackle breaking ability, and levelheadedness will all serve him well as he develops into a varsity contributor.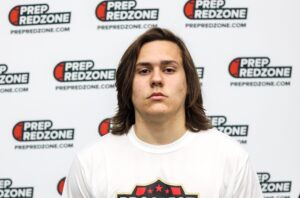 Riss
Caleb Johnson Caleb Johnson 6'1" | 205 lbs | LB Dilworth-Glyndon-Felton | 2025 State MN  (Dilworth-Glyndon-Felton) LB. 6', 200 lbs. Ranked #22
A small-school standout from DGF with good size and varsity experience as a freshman, Johnson is athletic enough to pursue and tackle in space and strong enough to beat blocks and battle between the tackles. Johnson's athleticism also helped him as a shifty, run-first QB, but his tape and size all point to LB as his future position in college. He's one of the stronger freshman on this list and I'll be very keen to see how he continues to grow and get stronger in the next couple of years.
Vinny May
Vinny May 5'8" | 150 lbs | WR Minnetonka | 2025 MN  (Minnetonka) WR. 5'7, 145 lbs. Ranked #24
An electric little ball of juice as a receiver, Minnetonka's May has body control and shiftiness in droves and made a sweet one-handed catch last fall as well as some dirty and effective cuts in the open field with the ball in his hands. Even on routine routes to the first level of the field, May takes advantage of any and all space defenses give him and sets up and jukes opponents with great success. He's overall fun to watch and is going to be a weapon out of the slot for the Skippers varsity soon.
Nevin Poppy
Nevin Poppy 6'4" | 180 lbs | QB Chanhassen | 2025 MN  (Chanhassen) QB. 6'4, 190 lbs. Ranked #27
I believe there is a 2025 QB battle in the Chanhassen Storm program as Carter "Boom" Carstens and the now-mentioned  Nevin Poppy
Nevin Poppy 6'4" | 180 lbs | QB Chanhassen | 2025 MN  both have good things going for them as young freshman quarterbacks. Poppy, with his outstanding size for a freshman, also possesses some slipperiness when evading pressure in the backfield and a big arm that can hit receivers downfield in stride or successfully complete tougher in and out-breaking throws from the hash or MOF. He's got a longer throwing motion, but displays some accuracy and velocity when it does get out of his hand. Chan has some big-time prospects coming up and I'll be interested to see how they use them this upcoming fall, Poppy included.