Get Familiar: The 2020 version of team Kentucky made it down to championship week, along with the other the three classes. However, these 2027 may be destined for some surprising things in this year's tournament. A year ago they had pretty good success and are looking to take the next steps by whipping up something fierce in terms of experience, overall athleticism and some very cerebral coaching moves.
How they'll light it up: Look for Kentucky to enter the game with the mentality of "we are going to run until you stop us." They think they have a personnel-driven offense that will keep defenses guessing and uncomfortable throughout the game. If they can dominate up front and get their running game rolling, they feel they have the experience and depth to really be something special. They have four running backs that plan to rotate depending on situation and plan to use a lot of the state playoff and championship experience to their advantage.
How they'll shut it down: Expect a suffocating, responsible defense that wants to make teams tap out. Like their counterparts on offense, they feel that if they can control the line of scrimmage and stop the run, the game should be there's for the taking. Coaches expect the linebackers to be the strength of this defensive unit because that group in particular has shown a knack for getting to the ball quickly, penetrating gaps and causing turnovers. At the end of the day coaches said, "knowing ourselves, knowing our opponents and never fearing the results of a hundred battles will be our key to victory."
Mt. Rushmore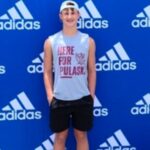 Kasen Brock | Athlete
No stranger to FBU and the FBU pathway, Brock is a standout running back and strong safety out of Northern Pulaski. Might be the most decorated middle player in the state of Kentucky as he tallied 50 touchdowns this year and was named the eight-grade Cumberland Valley Conference player of the Year as a seventh-grader. The state champion is undoubtedly the standout, yet remains humble and should shine on both sides of the ball.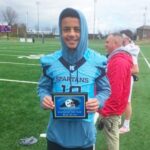 Kade Goodin | Athlete
Another one of the Kentucky Regional Player of the Year award winners, expect a big showing from Goodin on both sides of the ball. Standing at just about 6-foot and 140 pounds, he'll line up at both wide receiver and free safety for Kentucky. Look for him to be used in the passing game and as a threat to run the ball on jet sweeps with his speedy, long strides. He's a three-sport athlete (basketball & baseball) and the type of kid that excels at everything he does athletically.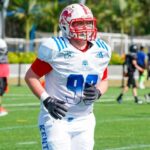 Kaden Bogar | Offensive Line/Defensive Line
The anchor and leader upfront for Kentucky will be Kaden Bogar. At 6-foot and 265 pounds he is an extremely versatile and mean offensive lineman that can really play any position up front. He played on the 8th grade team as a 6th grader last year. A strong, stout kid who is extremely physical at the point of attack. Love watching him run block because once he's engaged, he almost always overpowers with leverage.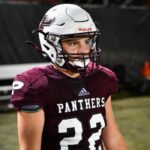 Jayden Justice | Linebacker
Pound for pound, Justice could be the strongest kid on the Kentucky 7th grade team. He's a hard-nosed kid who thrives off contact. Look for him to be the catalyst and leader of the defensive efforts. Played on the Pikeville eighth-grade team this year, as just a seventh grader. Has an elite nose for the football and knows how to finish tackles. Will play running back in short yardage situations, if need be, but I expect double digit tackles from him in most games.
Offensive Ballers to Know
Brady Houll | Offensive Line
Boone Godby | Quarterback
Brayden Burke | Wide Receiver
Tristian Dillard | Running Back
Defensive Ballers to Know
Cainon Sargent | Linebacker
Braylon Thomas | Defensive Line
Nash Whelan | Defensive Back
Jeremiah Anderson | Linebacker