Maddox Arnold Maddox Arnold Maddox Arnold 6'2" | LB Elder | 2025 State OH (Elder) 6'2 210- For a sophomore Maddox is a well put together young man. He has the size and strength to take on blockers, and he…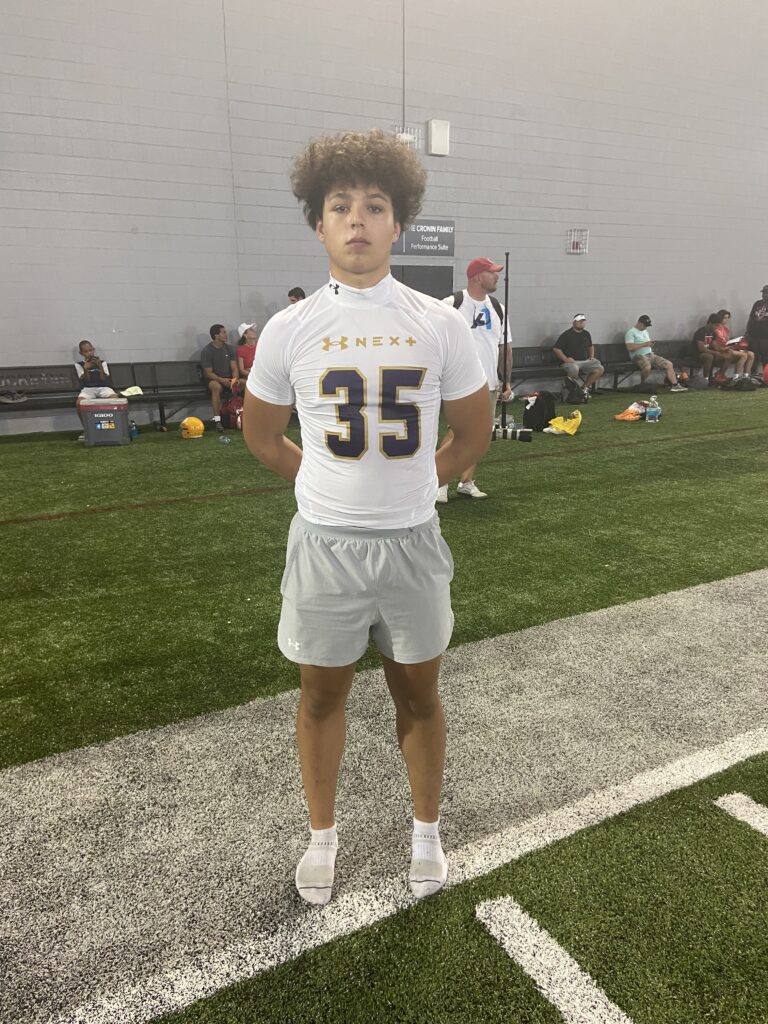 Maddox Arnold
Maddox Arnold 6'2" | LB Elder | 2025 State OH (Elder) 6'2 210- For a sophomore Maddox is a well put together young man. He has the size and strength to take on blockers, and he has the speed to pursue and run down plays. He also contributes on special teams as a gunner on the kick off team. I like him more as an outside linebacker where he can set the edge and blitz off it. Maddox is likely to continue to grow and fill out into a big linebacker who can run. Playing at Elder he's playing one of the toughest schedules of any team in division 1 football. As he gets more comfortable in his reads I expect him to become a big time playmaker. Maddox has an offer from Purdue.
Nate Gregory Nate Gregory 6'0" | LB St. Edwards | 2025 State OH (St. Edwards) 6'0 225- It's rare that sophomores get to play let alone start for the powerhouse Saint Ed's varsity program. So when a sophomore like Gregory get's to start that should tell you a lot about his ability. Gregory is a stout linebacker who fires quickly and makes plays. He does a good job of avoiding blockers to make plays. When he makes tackles you rarely see him go backwards. He also lowers the boom from time to time. He plays inside linebacker in the Eagles defense. His height and build is a natural fit there. I can't wait to see how he grows and continues to develop.
Eli Lee
Eli Lee 6'3" | LB Archbishop Hoban | 2025 State OH (Hoban) 6'2 210- At 6'2 210 Lee plays inside linebacker for the Knights. He has good hips and change of direction. He runs downhill and is strong at the point of attack. Lee plays really well in space and is a good open field tackler. Hoban's defensive line does a great job of disrupting and occupying the offensive linemen so that many times Lee is running free. His size and athleticism could easily make him a fit at outside linebacker at the college level as well.
Shiren Mabry Shiren Mabry 6'3" | LB Kipp Columbus | 2025 State OH (Kipp Columbus) 6'3 185- Shiren is a hybrid safety/linebacker. Because of his length and athleticism he can not only play the run, but he can cover. The versatility a hybrid can offer is highly valued in today game where the passing game is so prevalent. He plays sidelines to sidelines. His range is really impressive. As he continues to fill out and get stronger he's going to cause offensive coordinators a lot of trouble as a player who can be used in so many ways, it's going to be hard to determine where he might be on any given play.
Denim Cook
Denim Cook 6'4" | LB Bishop Hartley | 2025 State OH (Bishop Hartley) 6'4 210- The first thing about Cook is that he absolutely passes the look test. He plays outside linebacker for Hartley, and possesses a thick, long, and athletic build. Denim plays with heavy hands in the run game and is physical when taking on blockers. He has the speed and athleticism to get to the QB off the edge and cover the flat. Because of his combination of size, length, and athleticism, Cook my have the highest upside of any linebacker in the 2025 class.