EXOS held one final Select 50 Showcase event on July 10th in Frisco to give athletes another opportunity to improve their top 100 status or add their names to the list.  This event had players travel in from California, Louisiana, Florida, and around Texas.
Overall MVP
Mosula Tapusoa – Mater Dei OC 2022  6'1 300lbs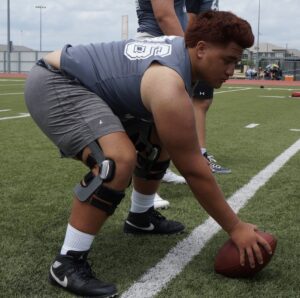 Tapusoa came down from the number one team in the nation Mater Dei (California) to test himself, and left by winning the overall MVP and adding his name to the list as a national player of the year finalist.  He dominated his competition showing good hand usage, strong pop in his hands, a death grip once he got locked on a defender, and a solid base to help him halt the advancing rushers.  Big Mo will be a great anchor to an offensive line at the next level and showed the ability to slide out to guard if needed.
Runner-Up
Tripp Riordan
Tripp Riordan 6'5" | TE Wakeland | 2023 State TX – Wakeland TE 2023  6'5 243lb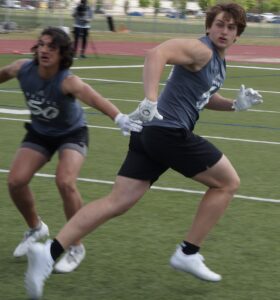 Riordan showed why he is a national player of the year finalist.  He had the 2nd overall 10yd split at 1.54.  Tripp is a natural hands catcher with great field awareness and elite catching ability through contact.  He has the size and skill to be playing on Saturdays right now.
Tripp was the center of an amazing story at the showcase.  Linebackers coach Jayrone Elliott had a brief conversation with a member of the Iowa State staff.  After his phone call ended, Elliott informed Riordan that he had received a scholarship offer from Iowa State.
QB MVP
Cergio Perez
Cergio Perez 6'0" | QB Garland | 2022 State TX – Garland QB 2022 6'1 207lbs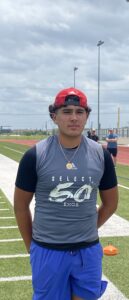 This South Dakota commit has a strong arm, able to throw darts in tight windows in the middle of the field when his feet are set.  Perez throws a great deep ball and is accurate on the move.  He is mobile enough to extend plays or pick up a few yards on a scramble.
WR MVP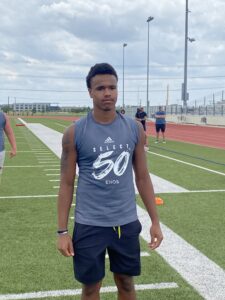 Ellis Rogers – Garland WR 2022 6'1 185lbs
Perez's top target at Garland had himself a day.  Rogers is a tall, lean possession receiver that will win most 50/50 battles with his long wingspan and great catch radius.  He has solid field awareness and is very smooth on comeback routes.
RB MVP
Shawn Wara – Heritage RB 2022 5'8.5 191lbs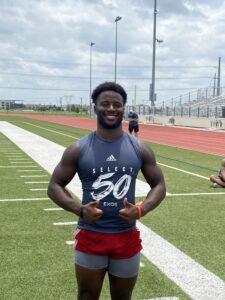 Wara is a freak athlete, testing in the top 3 at 6 of the 7 athletic tests, making him the 3rd overall athlete at this showcase.  He had an eye-popping 37.4″ vertical, 8'2 and 7'11 1 leg broad jumps, a 4.7 40yd dash, and was top 2 in the change of direction tests.  Shawn is a true all-purpose weapon, providing rushing, receiving, and kick returning skills.  He has good hands, great vision, and a strong jump cut.  He might be even better in pads though, where he can display his contact balance and lower body strength.
OL MVP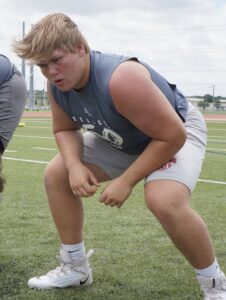 Hunter Mastin
Hunter Mastin 6'2" | OL Trinity Christian Lubbock | 2023 State TX – Trinity Christian OC 2022  6'2 275lbs
Mastin continued his assault on camps/showcases this summer, adding another OL MVP award to his collection like Thanos collecting infinity stones.  He has continued to progress throughout the camp season.  Hunter has a solid base, great grip strength, a strong punch, and a nasty demeanor in the trenches.  His toughness, balance, and body control make him a well-rounded offensive line prospect.
DB MVP
Brayden Wilcox – Christoval ATH 2021 – 5'10 180lbs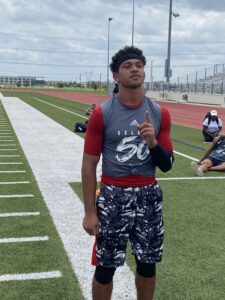 The Angelo State commit capped off his EXOS career with a great showing, ending the day as the 2nd overall athlete at the event, and building on his national player of the year finalist resume.  He was in the top 5 in 5 of the 7 athletic tests, running a 4.69 40yd dash and hitting 33.6″ on the vertical.  Coming from a small school where he was a QB, CB, and kick returner, Wilcox provides a lot of value to his new team.  He has a competitive DB mentality.  His feisty nature combined with his patience as a CB, good burst out of breaks, and great ball skills were all on display.  It's no wonder he had 17 career interceptions in high school.
LB MVP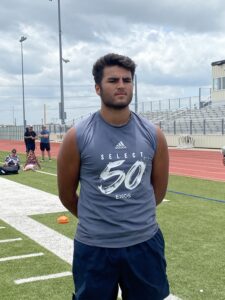 Michael Flanagan – Wakeland OLB/TE 2022 – 6'3.5 220lbs
Flanagan has great size as a linebacker at 6'3.5 220lbs.  He is long, lean, and a fluid athlete for his size.  Michael has solid vision and takes good angles to the ball.  He was able to come out on top of a loaded LB group at the camp.  The familiarity with his teammate Tripp Riordan
Tripp Riordan 6'5" | TE Wakeland | 2023 State TX led to some good battles between the two during the event, with Flanagan being one of the only players at the showcase that was able to make things difficult for Riordan.
DL MVP
Andrew Cuellar – Mathis DL 2022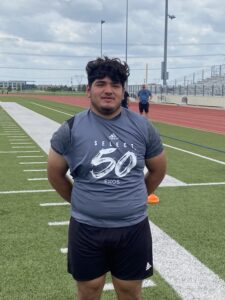 Cuellar is proof that dynamite comes in small packages.  His shorter stature allows him to play with leverage, using a strong leg drive to collapse the pocket.  Andrew has a quick get-off, routinely being the first one off the line, and plays with a high motor and great hand usage to shed blockers and make plays.