The 2024 Virginia Rankings were recently updated and a couple of guys raised their stock with outstanding performances from the past season. Lets take a look at a few players who made a move up on the latest version of our rankings.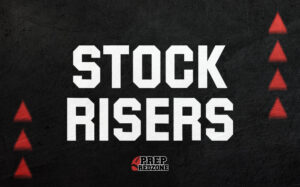 Zahir Rainer
Zahir Rainer 5'10" | ATH Trinity Episcopal | 2024 State VA | 5' 10'' 180 lbs | Athlete | Trinity Episcopal School
Rainer made the leap from 18th ranked to the 5th ranking overall and the 2nd ranked Athlete. As a sophomore, he helped his team to a VISAA Division 1 State Championship with 38 tackles, 7 tackles for a loss, 3 interceptions, 9 pass break ups, and 2 touchdowns. He was named VISAA First Team All State and Honorable Mention All Metro as a Defensive Back. He also holds numerous Division 1 offers from Minnesota, Grambling State, Penn State, Marshall, Ball State, East Carolina, Duke, Virginia Tech, and Arkansas.
Fletcher Westphal
Fletcher Westphal 6'8" | OL Tuscarora | 2024 State VA | 6'8'' 320 lbs | Offensive Line | Tuscarora High School
Westphal stock has risen has he now cracks the top ten, going from number 16 to the 8th ranked player overall, and the top ranked Offensive Lineman. The super sized sophomore was part of a unit that paved the way for the number 6 ranked rusher in the entire nation and Virginia Tech commit, Bryce Duke Bryce Duke 5'11" | RB Tuscarora | 2022 State VA . I look for Westphal to continue to dominate for the next 2 years, not just because of his natural size, but his work ethic and dedication to his craft. Westphal's size will draw a lot of eyes, but his athleticism is uncanny. He recently ran a hand timed 4.72 40 yard dash. He earned Second Team All Dulles District Offensive Line Honors and has several Division 1 FBS offers.
Jamauri Knox
Jamauri Knox 5'9" | WR Oscar Smith | 2024 State VA | 5'9'' 160 lbs | Wide Receiver | Oscar Smith High School
Knox made a slight jump in our rankings, but that's only because he was already inside the Top 20 on our list. He checks in now as the 12th ranked overall player and the 4th ranked receiver. He has offers from Duke University, Liberty, Virginia Tech, University of Maryland, and University of Virginia.
Eric Smith Eric Smith 5'9" | WR Manchester | 2024 State VA | 5'9'' 160 lbs | Wide Receiver | Manchester High School
Smith bumped up on our list from number 43 to the 20th overall player and the 6th ranked wide receiver. He earned All Metro Honorable Mention, 6A First Team Kick Returner, 6A 2nd Team All Purpose, and 6A Honorable Mention as a Defensive Back. He currently has offers from Virginia Tech, Marshall, Old Dominion, Ole Miss, Mississippi State, UNLV, Kentucky, Wake Forest, Montana, and Maine.
Jordan Dennis Jordan Dennis 5'9" | QB South County | 2024 State VA | 5'9'' 165 lbs | Quarterback | South County High School
Dennis jumped onto the list as the 24th overall player in the state and the 3rd ranked Quarterback. He threw for 3,016 Passing Yards, 37 Passing Touchdowns, averaged 215 yards per game, and had a Quarterback Rating of 116.6.