Most prospects grew up playing Pop Warner or Junior All-American football and became dominant high school players who drew the attention of college scouts.
Some prospects are physical specimens who excel at other sports and the football coach convinces him to play football.
Very few prospects immigrate to the United States from a foreign country and earn Power 5 scholarship offers within a couple of years of playing the sport.
Defensive tackle Ahmed Hassanein from Loara High in Anaheim has one of the most unique stories of any prospect in the country.
Really like Loara (Calif) DT Ahmed Hassanein a lot, powerful kid with a quick first step, still waiting for his first offer to roll in pic.twitter.com/3PeCkr3We3

— Greg Biggins (@GregBiggins) August 27, 2020
For those who are unfamiliar with the high school football scene in Orange County, Loara is a smaller school in Anaheim that is surrounded by football powerhouses like Mater Dei, Servite and Orange Lutheran. Typically, if any player is outstanding at a school like Loara, they end up at one of those three schools before their junior year. Hassanein is the best college football prospect to come out of Loara since Kevin McLain who was a first round draft pick for the Los Angeles Rams out of Colorado State. McLain graduated from Loara in 1972.
With the help of his brother and Cory Besch, an assistant coach at Loara and the school's head coach Mitch Olson (brother of famous University of Arizona basketball coach Lute Olson), Hassanein found a family environment at Loara and has taken advantage of a once in a lifetime opportunity.
I interviewed Hassanein about his meteoric rise and journey from Egypt to becoming one of the top prospects in Southern California.
---
You grew up in Egypt. What was your sports background like in Egypt?
"In Egypt, I did a lot of different sports. When I was younger (about 10 or so) I did swimming, boxing, and judo but when I turned 14 I started to get into CrossFit really seriously. After training for 2 years I competed in the CrossFit games and was ranked #1 in Egypt, #14 in Africa, #206 in World for my age group."
---
What made you want to try to play football once you got to the states?
"Well, my older brother Cory played football in college and was playing semi-professionally in Austria in 2018. When he finished his season he came to visit me and the rest of our family in Egypt before heading back to the states. When he was there he noticed I was struggling with family issues and at school. We discussed the possibility of me coming to America to live with him and go to school and play for him at Loara High School in Anaheim where he has been teaching and coaching for 7 years. Once we decided that was the best plan of action, I left Egypt in August of 2018 and started learning the game immediately once I got to Loara. I started out not knowing anything about the game (I kept getting facemask penalties) but my brother and I spent hours at home learning the rules and even practicing techniques in the kitchen after practices."
---
Coach Olson has really made Loara a much better football team over the past few seasons. What do you like about playing for him and what do you like about Loara?
"I love Coach Olson like a second father. He has taught me and the rest of the team at Loara to be respectful, honorable men who don't make excuses and who compete for the team, not for themselves. We are a brotherhood and we love each other like family. I have had offers to play at other more prestigious schools in the area but I could not see myself playing for anyone other than Coach Olson and my brother Coach Besch (Cory). Making the playoffs back to back years at Loara has been a great experience and I hope to take it even further this season. I love that Loara is an underdog, just like I am."
---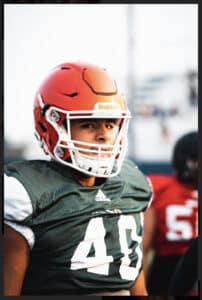 You have been getting a lot of press lately due to your performances at Winner Circle events. What has it been like getting more recruiting attention and becoming more of a big name?
"It has truly been a blessing. When my brother and I were preparing for this offseason we planned on attending camps and showcases to get some extra exposure but when COVID 19 hit everything was in question. We did not know what we were going to do and I was worried that nobody would know who I am. When Winner Circle put on an exposure event my brother took initiative and made sure I was there and seen. From that moment to now, everything has been a whirlwind from getting noticed and followed on Twitter, to full-ride scholarships within a couple of months. I am truly grateful for every opportunity I have been given so far and I am driven to continue to get better every day. I have big dreams and I am nowhere near achieving them yet so I am going to keep grinding and becoming the best player and man I can be."
---
You have an offer from Northern Colorado. What other schools are showing interest in you? Which coaches are you talking to at those schools?
I have official full-ride scholarship offers from Duke (Coach Ben Albert), Kansas (Coach Chidera Uzo-Diribe), Northern Colorado (Coach Tavares Bowens), and Azusa Pacific University (Coach Zach Minter).  I also have good relationships with Fresno State (Coach Eric Schmidt) and Boise State (Coach Spencer Danielson) and have online connections with a few other schools like UCLA and Colorado.
---
What are your goals for your senior season at Loara?
I want to be the best leader, teammate, and player I can be this season. I want to continue to absorb as much football knowledge as possible to increase my football IQ and put myself in a position to be successful this year and in the future at the next level. Statistically, I want to have my best season ever and be mentioned in the same category as the other top prospects in the area. But most of all I want to lead my team to another successful season, a league championship, and a deep run in the playoffs.